Transitional Single Oven
Subtitle:
ICBSO2450TE/S/T
Why Wolf?
CONVECTION CONTROLS HEAT AND CONTROLS AIRFLOW
A convection fan works with the heating elements to maintain heat and airflow, eliminating "cold spots" and ensuring more consistent, more delicious results – even when using multiple racks at once.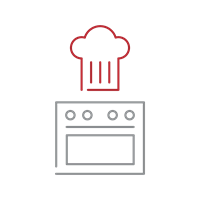 GOURMET MODE THINKS FOR YOU
Once your oven knows what's inside – a soufflé, a crown roast, a few sweet potatoes – our climate sensor takes over. It detects the volume, shape and consistency of these dishes then adjusts the time, temperature and humidity for guesswork-free delicious results, every time.
INCREASED PERFORMANCE SMALLER FOOTPRINT
Fit for compact spaces, the built-in oven offers high-performance cooking, providing consistently delicious results, with a smaller footprint.
TEMPERATURE PROBE PRECISION
End the practice of constantly opening the oven to check and re-check your dish. Our temperature probe alerts you when the dish has reached its desired temperature. Success made easy.
WORRY-FREE WARRANTY
Wolf offers an industry-leading full two-year warranty on appliances, along with a limited five-year warranty.
RIGOROUS TESTING
Built with premium-grade materials, Wolf products are designed to last a minimum of 20 years. Major components are subjected to extreme stress tests prior to going into the final design, and every major function is tested before shipping.